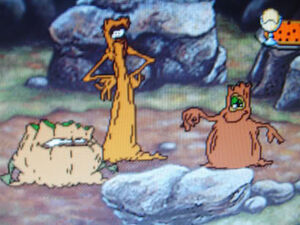 The Pizza Trolls are a race of tree stump-like creatures. Pizza trolls are bigger and much stronger than Zoombinis. They are very hungry creatures and have a constant desire for pizza. They tend to be extremely picky. All three of them make appearance in the puzzle Pizza Pass.
Quotes
[
]
Arno
[
]
Fleens? You're not Fleens!
Hmph! Whatever you are...MAKE ME A PIZZA!
Pizza for breakfast, pizza with tea, pizza for lunch and snack and dinner and dessert, baby it would... satisfy me!
Oh...come on, pizza, you know I love you!
MORE TOPPINGS!
More toppings!
Come on, more stuff!
MORE!
More, more, more, more, more, more, more, more....!
Something on that I don't like!
Something must go!
EYAAAAAHHH! YUCK!
There's stuff on that I don't like!
Some of that stuff must go!
Some of that stuff is yuck!
Been there, seen that, still don't like it!
Saw that, smelled it, still don't like it!
Thank you, thank you!
The perfect pizza!
Ohhhhh... my pizza!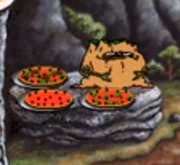 1, 2, 3!
HAVE A PIZZA PARTYYYYYY!
Willomaen ("Willa")
[
]
Hmmm... little pizza makers!
Mmmmm....pizza pizza!
Mmmm....
Mmmmmmm!.....
There's something there I won't eat!
That topping, not for me thanks.
That topping, no!
There's something there I HATE!
Something's wrong!
Some of those toppings are distasteful!
Some of those items...EWWWWWW!
I dislike some of those items.
Some of that...I won't eat!
EWWWWWWWWWWW!
We tried that one already...
I didn't like that pizza the last time!
I'm starving!
Hmph!
I'd appreciate more toppings.
Is that all I get?
More toppings!
More....
MORE!
My compliments to the chef.
Now that's more like it!
Shyler
[
]
You weren't fooling!
Pizza time!
Wow! Pizza makers!
They're here!
I love them!
My heroes!
Uh oh! There's something on that I don't want!
Uh oh!
Ohhhh, something's wrong.
Something's wrong.
Something on that's not good for me.
Gee, I wasn't expecting that one.
I'm allergic to some of those toppings... really!
I shouldn't eat some of those toppings.
Some of those might make me ill.
Ahh! Make it go away!
Could you make something new please?
I'd like more toppings please.
It's still missing my favorites.
More toppings...please.
May I have more please?
More please.
I'm really getting hungry.
FOOD!
I'm hungry.
YEEEEEEEEEEHAAAAAAAAAAA!
YEEEEEEEEE HAAAAAAAAAAAAAAA!
Oops!
Thank you. (BLUSHES)
(BLUSHES) For me?
Known Pizza Trolls
[
]
Arno: The strongest of all trolls, although he can be very picky. He is very grouchy and mean towards the Zoombinis.
Willa: The only female in the trio. She can be just as impatient and picky as Arno. She first appears in the Oh, So Hard difficulty.
Shyler: The shy troll of the bunch, he is known for being kinder than the other trolls. He first appears in the Very Hard difficulty.
Appearances
[
]
Arno: Short tan troll, mean eyes, angry mouth, green inside his trunk
Willa: Slender copper troll, brown eyelids, visible lips, usually shows her trunkhole
Shyler: Short and obese brown troll, sleepy green eyelids, big round tummy with two lines on each side, usually smiling